My first few days in Phnom Penh in 1966 were stunningly memorable, not least for my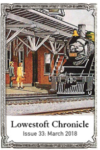 middle-of-the-night initial encounter with Norodom Sihanouk, the monarch/president. It was also my first trip with the cyclopousse (pedicab) driver who would somehow always be available when I wanted to go somewhere — and who would ultimately confess that he reported on my travels to the police once a week.
I departed from my usual fiction routine to write a memoir slice that's published today in the online literary magazine Lowestoft Chronicle.  Read it by clicking ==>here.