It's hard to keep up with the innovations in presenting short stories. I've remarked before on the (I think new) phenomenon of paperback themed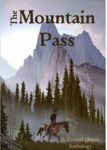 anthologies of short stories, which ought to sell well in airport shops, but may also find buyers in old-fashioned bookstores and certainly online. I have stories in four such paperbacks now; the newest is "Mountain Test," one of a dozen stories in a paperback titled The Mountain Pass.  Get it at Amazon click => on the image or read my contribution here.
An even newer idea: An app of flash fiction to read in the palm of your hand. If you have the app Chronicle Stories on your smartphone and have a few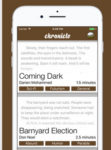 minutes to kill, relax with a very short story. During May, my "Barnyard Election" will be prominent before it's pushed aside by newer stories. You can look for those readable in your time available (silence a TV commercial break to read mine in 2 1/2 minutes; the longest are five-minute reads) and even pick a story by style (mine is  tagged as Absurd/Humor/Parable; others in this first round are tagged as Sci-Fi, Futurism, Surreal, Romance, Clothes, Loss, Family, Utopia, etc etc). To download the app (free, as are the stories), click on the smartphone image; or read my contribution here.