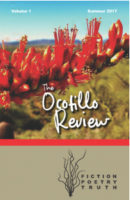 To be published by Ocotillo Review in January 2018
A brassiere had fallen or been stuffed under the driver's seat, from the back seat.
Stephen kept a folding umbrella in exactly that spot. A light rain had begun as he pulled into the company parking lot, so he'd reached back under his seat to get it.
The umbrella was there, but so was the bra. A lacy, frothy, wireless garment. For a well-endowed young woman, he judged. Amazing how taut and firm young breasts were. Carol hadn't worn anything so revealing in years; nowadays she wore a lot of Spandex to hold up — or in — the sags of age. Maybe this filmy thing was from Victoria's Secret? He'd long wondered what those were like.
He sat for a few minutes, watching rain spatter noisily on the windshield, thinking. There was a faint aroma in the car. Closing his eyes, he breathed deeply through his nostrils. Perfume, no question. And not Carol's.
Step one, obviously, was to ground Chip, who had successfully gone through the state-required stages of supervised practice and was now fully licensed. He'd borrowed the family car frequently since his eighteenth birthday last month. He and Carol should confront their son that night.
Or maybe this should be a father-to-son moment.
Stay tuned — the rest of the story in January, when it's published and I get the copyright back!