I've been working my way through that how-to-flash-fiction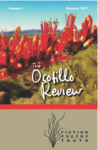 book, with some luck. One prompt was to think about an article of clothing found. I can't let you read the whole thing until Ocotillo Review prints it in January, but you can have a taste. Click ==> HERE.
The other one just accepted, to be published in December, was prompted by a neighbor whose foot slipped from the brake to the accelerator as he was parking. Frankly, I hope he doesn't find and read this one, because I've taken a wholly innocent slip and turned it into real damage and a family argument. Again just a taste ==> HERE.