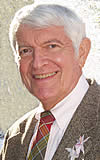 Don Noel is retired from a prize-winning career in television and newspaper journalism that earned him a place in Who's Who in America. He and his wife, Elizabeth Brad Noel, lived for a half century in an African-American and Jamaican neighborhood in Hartford, CT, and were deeply involved as volunteers addressing urban issues for four decades; he is former chair of the ACLU of Connecticut. They now live in the Seabury retirement community in nearby Bloomfield, and are still near their daughter, Emily, her husband, Tim, and their grandson, "TJ," now a student at Yale.
Don told the story of their building and managing a Jamaican vacation rental home in his Near A Far Sea. His first attempt at a novel, Love's Hurricanes, has been honed in workshops and mentoring as he took a Master of Fine Arts degree from Fairfield University — but is still looking for a publisher.s
For details on his Marquis Who's Who Lifetime Achievement Award, go ==>here
This website was built on a custom WordPress theme for Don by Jeanne Leblanc.