Published by the University of Wisconsin's Steam Ticket in May 2020
Melissa hadn't seen Lion for days. She worried: Despite their long hair, she'd been told, shih tzus don't tolerate cold well, and it was a cold, snowy January.
She wasn't exactly staring out the window; she might conceivably have missed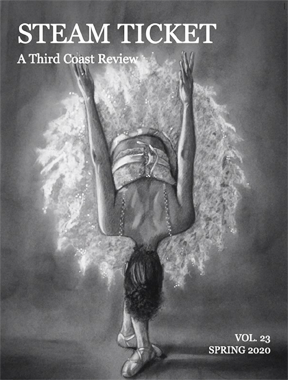 him. Her favorite reading chair was by the window, though, so the dog usually caught her eye when it ventured into the courtyard below.
Her new living room was half the size of the one at home. At the old house, she corrected herself. A cozy cocoon of a room, although it took getting used to. When the teapot whistled, five steps took her to the kitchen-counter corner. Pouring hot water over a teabag would have to do; downsizing had meant giving her silver tea service to her daughter out in Oregon.
She sat by the window again to sip, thinking it would be nice to have company. It was a quite pleasant view: trees and shrubs, and surely flowers come spring. Still no sign of Lion, though.
Having moved in just after Christmas, she was still getting to know neighbors. Sunny Acres had some residents who could afford Florida through the worst of winter, so she hadn't met everyone yet, but she'd made some new friends. She wasn't surprised that most were women. Although many were a decade older, a handful were her own age, spry enough to play pickleball or go for walks come spring, wits undiminished enough to enjoy talking about books or even current events. Most of her contemporaries were married, though.
So were the few men she'd met so far who weren't ancient — except for Lion's owner. Howard Bates' ground-floor apartment was downstairs and catty-corner from hers, so she could readily see when his dog came out its patio doggy-door.
Which he definitely hadn't done. She'd been here in this room since breakfast. Maybe she should call Mr. Bates to ask if Lion was not well.
Or should she call him Howard?
They'd met only once, last week. She'd leaned out a window to put fresh suet in the feeder and there he was, just below with a pooper-scooper, close enough to talk without raising their voices.
"I've admired your cute little dog," she said. "I'm Melissa. I see him every day when he comes out to do his business. Or is it she?"
"I'm Howard. He's a male. At least started life that way."
How wonderful! A good-looking man with a wry grin who didn't hesitate to share an ever-so-subtle sexual joke. She hoped she wasn't blushing. "How old?"
"Two years. A teen-ager in dog years."
"That explains his exuberance," she said. "I love watching him prance around the yard, even belly-deep in snow."
"There's an invisible electronic fence. He wears a collar that tells him not to leave the yard."
"He seems well-trained," she said. She wanted to congratulate him, but felt bashful.
"What's his name?"
"Lion. Shih tsu means 'lion dog' in Mandarin. They were emperors' pets."
"You speak Chinese?"
"Don't I wish. Just homework before I bought him." He shivered; out without a coat, silly man. "Nice meeting you, Melissa. Thanks for keeping an eye on my little lion. You phone if you see him edging toward the parking area."
So there it was. He'd invited her to worry about his dog.
And she really was worried.
She wouldn't phone, though. Rather than stay cooped up alone in this too-small room, she'd go down and knock on his door. He might be grateful for her concern, and invite her in for a cup of coffee.
It would be good getting to know that little dog better.
-End-