Published by an online literary magazine, "Who Writes Short Stories?", in April 2019
Jill hadn't imagined so many choices. In the chalky light, the buses kept coming and going: to Waterbury, New Britain, Boston, New York, Providence, Philadelphia. She wished she had a map.
The backless metal benches were uncomfortable. Probably to discourage homeless people from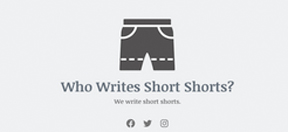 sleeping here. Never mind; she kept getting up to watch buses load or unload, wondering if someone like her would be noticeable. Not stand out by age: She was fifteen, but was sure she looked eighteen. No, scared: She didn't want to look scared.
Most arrivals had someone waiting: Stepping down to the pavement, hugging awkwardly, they hurried to waiting cars. Others moved confidently toward the taxi stand or the local bus stop at the end of the platform. No one seemed uncertain. Except her.
Departing buses gave her time to study the passengers. Most, traveling with friends, chatted as they waited in line, shuffling up to where the driver took their tickets. Some had suitcases to be stowed in the holds, which made them seem purposeful. Those alone stared into smartphones, or smiled, rocking to rhythms in their earbuds. None looked indecisive.
It was chilly. It had been warm at the cemetery, an autumn afternoon whose beauty mocked their purpose, but the day's heat was long gone. Taking off her backpack, she took out her hoodie and pulled it on, trying to avoid mussing her hair. It warmed her, but made her more conspicuous, she thought: People resolutely going somewhere wore real coats. Without the hoodie her bag was almost empty; she should have packed more. She set it at her feet.
Remembering the cemetery brought tears; she dabbed with an already-damp handkerchief. She had not known until this day that Dad was not her real father.
The scene at graveside replayed in her head. "Jill, I don't know why you're crying," Carol whispered acidly. "You're adopted. I'm his real daughter."
Eight years older, her sister had always seemed distant; suddenly she had turned cruel. And apparently wasn't a sister anyway. Good riddance.
On the other hand, Carol would go back to college soon, halfway across the country to get a degree in cybernetics, whatever that was. At that point, if she changed her mind, Jill would be an only child again — adopted or not. It had been special this year, with Carol away: Mom taught her to sew, and helped her make a Father's Day shirt for Dad.
She made herself concentrate. A girl got off a bus from Albany, looking lost. In the ghostly fluorescence her blonde hair looked frosted. She stood with her little roll-on, people eddying around her. The Travelers Aid booth seemed to catch her eye. It was dark, though, closed at this hour.
Were there Travelers Aid booths in other cities? And what would she ask? "Excuse me, I'm running away. Where can I safely get some sleep?" Not likely.
The blonde girl was being met after all: A couple came up, quick hugs. Parents? No, maybe uncle-aunt hugs. Whatever; she was wanted. The man took her roll-on, leading away.
Maybe she should ask people about the cities they'd left. "Excuse me, how big is Philadelphia?" Or "Excuse me, is Providence a friendly city?" No, that was absurd.
She'd been wrong not to say goodbye. But Mom was already grieving, and unlikely to have time for a spare-wheel daughter. Was Jill her real name, or one given at adoption? And how old had she been? Would Mom know who her real mother was? Or tell her? Must phone or write when she got settled in wherever she was going.
She'd taken a city bus downtown. Local buses must stop running soon. She wandered a half-block to the bus stop, peering at the sign with the schedule for her route. The last bus for the night had already gone.
That settled it: Time to get serious about deciding, buying a ticket. She went inside the terminal to the huge electronic timetable of arrivals and departures. Within the hour buses would leave for New York, Pittsburgh, Albany, Boston, Toronto. Did one need a passport for Toronto? Irresolute, she walked back to where buses came and went.
A man in a uniform cap, with a taxi-driver's badge on his tunic, startled her. Thick grey hair, bushy moustache. Nice-looking, old enough to be a grandfather. "Excuse me. Aren't you Jillian Bassett?"
He didn't seem the kind of predator you read about, but she was wary. "Why does that matter to you?"
"Your mother thought you might be here."
"Oh, sure."
"Your sister told her you'd had a fight."
"That's not what I'd call it."
"Your mother wants me to take you home."
"How do I know you're for real?"
"I understand. But I'm a licensed taxi man." He pointed to his badge. "And I saw you at the service."
"You were there?"
"Couldn't have kept me away. We went through high school together."
"You really knew him?"
"We got together over a beer now and then. He was so proud of you!"
"He was?"
"Loved you. And you must have loved him."
It was more than she could absorb. "Yes, but I'm not his real daughter."
The taxi man's eyes widened. "What do you mean?"
"I'm adopted."
"Why do you say that? He never mentioned it. Your mother didn't, either."
"That's what Carol said today."
"Oh, that's what's going on. Listen, your mother is going crazy worrying." He stooped to pick up her knapsack.
She snatched it, cradled it in her arms, a defensive barrier. "I don't know."
"Running away won't solve any problems."
The headlights of an incoming bus raked across them, then blinked off. She turned. It was bound for New York.
"Your mother has enough grief tonight. You shouldn't add to it."
People were beginning to board the New York bus.
"Your mother needs you," the taxi man insisted. "Wants you."
"What?"
The magic words again. "She wants you."
"Thank you," she said. "Let's go."
-End-