Published in American Writers Review, July 28, 2022
Priscilla had looked forward all week, yet now felt vaguely uncomfortable. Residual pandemic caution? Let go, she told herself; spring has sprung; enjoy it!
The familiar gilded proscenium arch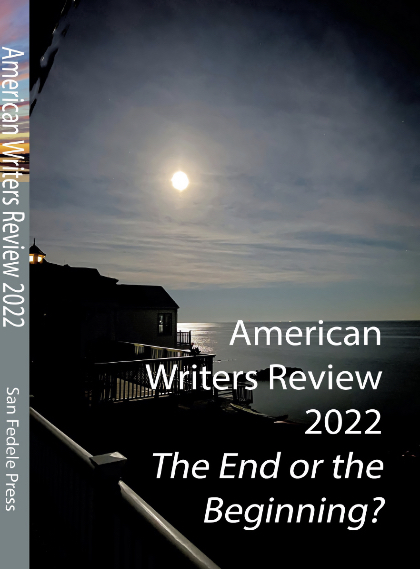 framing the stage should have been reassuring. Poor Howard would have enjoyed this return to almost-normalcy. The last time they'd come, before he fell ill, he'd liked being chauffeured in Harmony Acres' comfortable bus, after years of hoofing through the vast parking lot. Tonight, they would have been allowed to sit together, even hold hands. Most of her neighbors had a vacant seat on either side in compliance with the latest limited-occupancy regimen, but were a good deal less than six feet apart.
Maybe that's what made her uncomfortable? Too close to people taking off their masks? That's silly, Priscilla; everyone's had their shots and boosters, or they wouldn't be allowed in. She turned to the program: a concert performance of the opera "Salomé", an old favorite.
When the chattering instruments fell silent, she looked up to see the concertmaster tuck his violin under his chin and wait for the oboe's concert pitch. Then the usual cacophony as all instruments played that note, some playing a scale, too. Ah, tradition! Like prayer before meals, Howard had liked to say: Probably unnecessary, but made everything taste better.
She felt disappointed not to see the oboist. Pandemic-long she'd been "streaming" concerts – whatever that meant – and cameras always showed the woodwinds at this opening moment. Might the oboist be a woman, in this new liberated world, the tune-the-orchestra barrier breached in her hometown?
And now the soloists paraded in, both men and women in chiaroscuro except for Salomé in a flame-red gown with seductive expanses of shoulder. They took off masks and bowed, joined by the conductor. Good thing the orchestra pit stood between them and the audience, Priscilla thought: Health experts said singers expelled droplets like tiny rainstorms. Doctor Fauci still advised maintaining the protective regimen in crowds.
She made herself concentrate on the music. The captain of the guard sang, Wie schön ist die Prinzessin Salomé. Priscilla remembered: He was lusting after Salomé. He wasn't quite acting, but gave it some body language and facial expression.
This whole opera was about lust, she thought. The guardsman lusted after Salomé; her stepfather Herod, who would sing soon, lusted after her too. But she ignored them and lusted after Jochanaan, John the Baptist, imprisoned in a well almost offstage. In a deep-in-a-well baritone he prophesized the coming of Christ and condemned all the lusting.
Priscilla wondered if her granddaughters, away now at college, were into lusting yet.
The princess had Jochanaan brought up from the well, and lusted after him in good voice and extravagant detail. Priscilla longed for subtitles. I've been spoiled by watching the world on the tube, she thought.
This Salomé was a handsome woman; zaftig, Howard might have said, slyly whisper-translating for his wife: "stacked." But she shouldn't be much older than the grands. Last week, home on vacation, they'd taken her to lunch in a thinly-populated restaurant with tables partitioned like eggs in a carton.
Imagine, a year-plus without seeing your grandchildren! Hardly conducive to sharing intimate growing-up thoughts like whether they were in love, let alone lust. Everyone at Harmony Acres was presumably well past most lusting, but the recent news had been full of important people lusting after the wrong people.
She let her mind wander over the terrain of desire while the orchestra and singers worked at Richard Strauss's raucous score. Then the piccolo or flute offered the leitmotif of Salomé's passion. The newer generation wore their musical themes on their sleeves and succumbed to passion uninhibited; she wondered if that made their lives less complicated than in her day. Her granddaughters had made their lives sound improbably uncomplicated.
On stage, lust was certainly making life complicated. "Wie schon ist die Prinzessen Salomé," Herod sang, the very words the guardsman had used. Priscilla sympathized with Herodias: With her new husband telling the world that he lusted after her daughter, Herodias was understandably not in a good mood, and Strauss hadn't given her much melody.
Herod paid no attention to his wife; Salomé was offering a bargain. If he would grant her any wish, she would dance for him. Priscilla hoped they might actually perform the dance of the seven veils, which Howard once called the most demure strip tease in stage history.
No such luck: Salomé only shimmied, a primly operatic bump-and-grind; but the orchestra played it well. And now here she was naming her price: "in einer Silberschussel. . . "
The old lecher was eager to please: "Yes, yes, what do you want on your silver platter?"
"Den Kopf des Jochanaan." Give me his head.
She and Howard had seen a full operatic version long ago when a much-too-realistic prophet's head was brought up on a silver tray; Salomé's kiss had been repulsive. In this sterile setting, the soprano mimed it inoffensively, and one could concentrate on the music.
And then bang! It was over: Herod had his soldiers crush her with their shields, an outburst of instrumental discord. Then a moment's total silence as the audience took in the suddenness of Salomé's demise.
It had been spellbinding. Priscilla would have joined in a standing ovation, but her carefully spaced neighbors were more sedate. It takes a full house, shoulder-to-shoulder, to whip up real jubilation, she thought, as when the college basketball women won a title game on television the other night: This audience couldn't make enough noise. Finally she turned to follow the others up the aisle. Soon she could take those grands to a concert.
No, not both at once. Next time she would invite them singly. Intimacy amidst a crowd would be special: Each young woman whispering to her ancient grandmother the secrets of her heart – emotions and compulsions that moved people long before Strauss put them to music.
Post-pandemic passion. Something to look forward to.
-End-