Elizabeth "Brad" Noel, who spent most of her adult life in the service of students and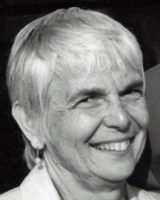 their parents, died January 23, 2019 at the age of 88 at Seabury Retirement Community in Bloomfield. In her final years she was robbed by Alzheimer's disease of any memory of the many Weaver High students, parents and others who remember her appreciatively and fondly.
Born in West Hartford to Ned and Margaret (Hadley) Foulds, she sang in the First Congregational choir and graduated from Hall High. The summer after earning her B.A. from Oberlin College she volunteered in European work camps with the American Friends Service Committee (AFSC), then began a graduate year in guidance and counseling at Cornell University. At a campus meeting of young Friends, she met her future husband Don; they courted that year and married in August 1953. She then taught junior high in Ithaca while Don completed his B.A. She liked to say that in a few short weeks she earned an M.A., Mrs. and Ph.T – a master's degree, married name, and Putting hubby Through.
Brad spent much of her life in service to others. In July 1954 she and Don joined the AFSC to direct weekend and summer work camps in Japan, expanding the program and helping college-age Japanese initiate and manage such efforts – in a country that then had no word of its own for "voluntary service."
After two and a half years, they left Japan for a year's travel home through Asia and Europe, living out of knapsacks that they sometimes shouldered but more often stowed on ships, rail cars, buses and airplanes. They spent three months learning to know India, visited friends in a dozen other countries, and led an AFSC work camp in Berlin before coming home to job-hunt while living with Brad's mother.
After Don joined the Hartford Times in 1958, they began building their first home – of Japanese design — in New Hartford. Their daughter Emily spent part of her first year living in a tent beside the construction site. By the time their son Ken was born the house was mostly complete, and Brad became a library volunteer and then an elected member of the town school board. Increasingly involved in city and civil rights issues, the family moved into the racially-changing Blue Hills neighborhood of Hartford in 1964, where both children attended public school, and where Don and Brad would live five decades.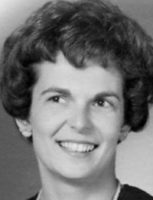 After another year's sojourn abroad, Brad resumed her career in education, first as a shared-time classroom teacher at Hartford's Rawson School and then as a Weaver guidance counselor for 25 years, most of that time as department chair. She pioneered use of computers in guidance records; led a student exchange with Japan; co-wrote a widely distributed booklet encouraging young women to take control of their own lives; and helped hundreds of students become first in their families to attend college, often taking small groups to visit campuses and set their priorities and goals.
She was an officer in the National Guidance Association, several years as East Coast president. The first woman trustee of the Fox Foundation, she helped award scholarships to Hartford students and mentored many, a foundation tradition she often continued well beyond graduations. She was an active member and First Day School teacher in Hartford Quaker Meeting. In Blue Hills she was a block captain, organizing neighborhood activities. She participated in the great 1963 March on Washington, the 1983 follow-up, and many marches and vigils in and around Hartford.
After retiring in 1992, she was elected to the first of four terms on the Hartford Board of Education. She was often the Board's representative on magnet schools stemming from the Sheff vs. O'Neill lawsuit (in which she was a first-day witness). She also represented the Board on the Hartford Public Library and Capitol Region Education Council boards, among others. She initiated and hosted almost 200 access-TV programs, Brad's Beat, exploring city schools.
She loved to travel, and was pleased to have been twice around the world and twice more halfway and back. A decade after the knapsacking trip, the family in 1966 spent a year abroad when Don won a newspaper fellowship to study in Cambodia and Romania. Brad set up temporary housekeeping in Phnom Penh and then in Bucharest, schooled the children and took them to meet friends in Japan, India, Jordan, Greece and Austria. The family wrapped up the year camping through Russia. Later family trips included several to the western United States.
She also loved gathering groups of friends to vacation – at their Jamaican rental home and in South America, Europe and Asia. A weekend foray to Boston Symphony Tanglewood concerts was an annual event for three decades; for twenty years they bicycled the 65 miles.
Her other hobbies included sewing and knitting clothes for the family, and gardening. In New Hartford she canned and froze vegetables and fruit to eat throughout the year; their Hartford garden was smaller but hardly less bountiful. Well into her 70s she insisted on mowing her own lawn. She and Don were avid birders; watching visitors to feeders outside the breakfast nook was a joy, especially in her later years. Their travels often included (or were planned around) birding; taking a grandson eagle-watching was a special treat.
She was a longtime member of a Quaker women's book club and of a multi-cultural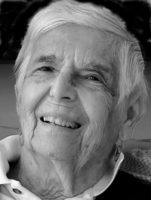 women's discussion group. She had several lifelong nearby friends from elementary school. She and Don were supporters of the arts in Hartford: season subscribers to the symphony, ballet, opera and theater companies, all often shared with friends.
Besides her husband of 65 years she leaves her daughter Emily, son-in-law Tim Sullivan and grandson TJ Noel-Sullivan of Hartford; brother Donald Foulds of Waterbury; nephews Kevin, David and Jeffrey Foulds of New York and Torrington; sister-in-law Maggie Semola of Helena MT and nephews Mark and David and niece Christina Noel and their families in Montana and Texas. She was predeceased by her son Ken, her parents, her beloved in-laws Don and Catherine Noel, sister-in-law Arlene Foulds and brother-in-law Jon Noel.
Her family is grateful to the caring staff at Seabury Meadows and the Seabury Health Center, and staff and volunteers from McLean hospice care. Memorial gifts may be made to the Seabury Charitable Foundation or to the Brad and Don Noel Family Fund at the Hartford Foundation for Public Giving, www.hfpg.org/noelfamilyfund. Friends may call on February 15 from 4 to 7 at Carmon Funeral Home, 807 Bloomfield Ave, Windsor, and a memorial service will held Saturday, February 16 at 10 am at Hartford Friends Meeting, 144 South Quaker Lane, West Hartford.