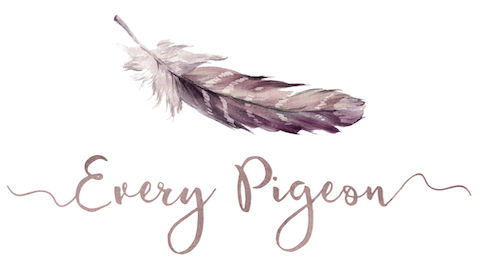 Published in Every Pigeon, Issue 4, in December 2018
The lady was like a bird, Manny thought.
Maybe a parakeet, chattering away as she sifted through Mama's clothes and jewelry. She must want to distract them, regaling them with stories of past acquisitions; not let them keep track of which pieces she wanted. "Long story," she would say, "don't ask!" — and then, unasked, would prattle on with the story, usually of a customer who had second thoughts and wanted a favorite sweater back.
He wouldn't have been here had Barb not insisted. The two of them divided what they wanted as keepsakes. Then they took the rest of the good jewelry to the store where Papa had for years bought Mama gifts over the years, and got a fair price. Manny was ready to call Goodwill or the Salvation Army for the rest.
But Barb was executor, and Mama's will was explicit: Sell anything left, and donate the proceeds to her church's building fund.
"I bill clients $500 an hour," he told Barb. "The firm takes some of that, but I get most. Let me buy the leftovers and get back to work."
"Sorry, Manny. Mama didn't want us to just dump it. She wanted someone to wear and enjoy her stuff."
He wasn't sure he wanted anyone wearing Mama's stuff. He'd hardly started school when she began dressing up. In his teens such occasions grew – on Papa's arm at clubs and office parties, and on her own as sought-after leader of PTAs and women's clubs and a dozen charities.
They were never rich. Papa was the first in his family to go to college, smart enough to get into Cornell, where they met, and smart enough when the war broke out to get into the ROTC. So he was an officer when he married Mama and — leaving her pregnant with Manny — snagged a behind-the-front post late in the North Africa campaign and then in the invasion of Italy. He bragged about how quickly the Allied Forces took Sicily. "Sparing me," he liked to say, "the unpleasant duty of killing very many of my cousins."
In Palermo, he chanced into a once-wealthy family selling a war widow's couturier clothes for grocery money. Papa "didn't know a Schiaparelli from a schlemiel," but he commandeered three GI footlockers and sent home a treasure trove. The Italian lady was anything but svelte; Mama quickly learned to tailor clothes to her own shapely frame.
Barb was born at Cornell while Papa finished a business degree. He then – ignoring Mama's wishes — turned down a job with IBM, choosing to launch a real estate career in Connecticut. He was good at it, and prospered. Mama stood out, wearing her re-tailored Palermo treasures. Papa grew affluent enough to buy her Dior, Chanel and other postwar paragons of couture. He never achieved the corporate wealth that Mama envied, but she always looked terrific – and never threw anything away.
So here they were, watching Bird Lady assaying a spangled maroon silk dress between her thumb and forefinger. It was the first he really remembered, when Mama became president of his grade school PTA. She and Mrs. Sestero next door had given each other Toni home permanents, and she looked beautiful.
Bird Lady found the label. "Christian Dior," she said. "Very nice." Manny wasn't about to tell her how many of the other marvels in the pile had been re-sewn by Mama. Papa would put pins where she told him, and then she'd slip out of the dress and go right to the shiny black Singer sewing machine. Bird Lady folded the Dior dress neatly and put it in the small pile of things she wanted to buy.
The next was the one he remembered her wearing at the party when Papa opened his real estate office: green with just a bit of fabric over one shoulder, a wasp waist and a huge flouncy skirt. It was gorgeous, and made Mama the prettiest woman in the room.
Bird Lady was frowning. "No label," she said.
"My mother made a lot of her own clothes," Barb explained. "She bought patterns from Vogue."
"Good for her." Bird Lady decisively put the dress in the no-thanks pile.
She took one that still had the Italian label after Mama had reworked it, but turned down another whose label had disappeared. Then she took in hand one of Mama's brooches, glanced at it and picked up a jeweler's loupe for a better look.
I'll bet she's looking for gold, Manny thought. If she finds anything really valuable that we missed, no will ever wear it again; it will be melted down.
Then he recognized the brooch: He'd given it to Mama for her fortieth birthday.
A college senior on his first trip to the Near East, he found it in Istanbul's Grand Bazaar, the sprawling burrow of stalls, stone walls and vaulted ceilings that is reputed the largest mall in the world. He'd wandered into what they called the gold souk, an array of salespeople – mostly men – sitting cross-legged on woven rugs in stalls too narrow for more than one. Each had glass display cases full of ornaments, gilt that glittered but was probably not gold.
The one that caught his eye was the kind of pin to secure a woman's hijab, restraining the headscarf from sliding off shining dark hair. Its center was a thumb-size cameo bust of a woman — ironically, not wearing a hijab – framed in an elaborate filigree of imitation diamonds studded with occasional faux rubies and sapphires, all bedded in what appeared to be gold.
It seemed exotic in Istanbul. At home, he had doubts, but gave it to her anyway. Mama thanked him profusely, wore it to his graduation – gaudy was not entirely out of style at the time – and then put it away.
"You go ahead and browse things," he said to Bird Lady, nudging Barbara. "We'll just go outside for a minute."
"What's this about?" Barb asked when they got to the parking lot. "That incredible brooch?"
"No, no. I might take it out of the pile, just as a keepsake of my vacation in Istanbul. The real problem is that this lady is taking forever, and she's not going to buy most of Mama's things anyway."
"What do you want to do?"
"Take all the stuff and leave. Take it to Goodwill. I'll contribute $500 to the church fund."
"Sorry. No."
"All right, a thousand."
"Manny, we can't do that at this point."
"Why not? I'm not even sure this lady is for real. I don't see any dresses or stuff for sale in there. What kind of consignment shop is this?"
"I have to confess I'd wondered. Let's go back in and ask."
Reluctantly, he followed her. Astonishingly, Bird Lady had the brooch in the buy pile, along with another of Mama's dresses. Two more dresses had been added to the no-thanks pile.
"I'd thought of taking that brooch back," he said. "Do you really want it?"
"It's a knockoff, but a good one, that fits an era."
"I hope you don't mind my asking," Barb said. "But I don't see any other clothing or costume jewelry in the shop. Where do you sell the things?"
"I keep everything at the house. We have a big house, and three bedrooms are full of stuff I've bought."
"People come to your house to buy things?"
"Oh, I thought you knew," she said. "I don't sell to the public."
"You don't?"
"No, no. Movie people come to buy. They're very fussy. Only want things with good labels."
"Movie people?"
"People making movies."
"Film-makers?"
"They find it's less expensive to buy used, authentic period dresses and jewelry than to have them made. Don't get me started. I had a producer in last month outfitting a ballroom scene set in the fifties. His costume manager found exactly what they wanted. Cleaned out an entire roomful."
"You mean my mother's dresses might be worn by a movie star?" Manny asked. "Or that brooch?" He didn't want just anybody wearing Mama's stuff, but . . . .
"Not the stars. At least not usually. The extras. Maybe the supporting actresses."
"Can you tell us what movies our mother's stuff is finally bought for?"
"Oh, I couldn't begin to keep track of that detail. I just know the name of the studio."
"They don't mention the movie?"
"Well, sometimes a tentative title. They pick and choose what they want."
"I understand. Maybe just tell us, for the next year, what movies you sell to? So when one comes out we can watch for our mother's things?"
"Well . . ." Bird Lady hesitated. "I've never done that. I suppose I can. But you might end up going to a half-dozen movies before you saw anything you remembered."
"I like movies," he said. "Why don't you go ahead and look through the rest of Mama's stuff?"
-End-