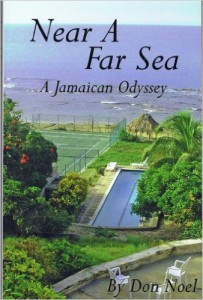 What Frances Mayes did for Tuscany, Don Noel has done for Jamaica.
In 1966, he and his wife discovered, on the island's South Coast, an unspoiled, out-of-the-way village where most residents make their living fishing on the Pedro Bank 50 miles offshore – "far sea," as the Treasure Beach fishermen call it.
They built a beachfront house, embellishing it over the years with a tennis court, a swimming pool and other improvements – and fending off roaming goats to establish lush plantings of tropical flowers and trees. They got to know their neighbors, and found ways to be helpful.
Near a Far Sea is the often-comic story of coping with a Third World bureaucracy and an unsophisticated labor force to make it all happen.
But it's a story that focuses on the village neighbors – thumbnail character studies that illuminate the life of a Jamaican fishing village. The subtext includes commentaries on British colonialism and attitudes about race, and notes on tropical trees and fruits, flowers, farmers' markets, birds, the Jamaican fishery, education and more.
It's a book that will engage you by the colorful folk who populate it.
Read the first chapter of Near a Far Sea as a PDF file: download the chapter.
There are three ways you can purchase Near a Far Sea.
One is from any bookseller who subscribes to the Ingram distribution list. Some are slow to update their database from Ingram, so it's wise to telephone and ask your favorite bookstore to get it for you. The ISBN is 1-4259-0892-6 (softcover), but you shouldn't need that; just Near A Far Sea by Don Noel ought to suffice.
You can order the softcover online from either Authorhouse (the publisher) or Amazon.com.
Amazon also offers Near A Far Sea as an e-book for Kindle.