I've tried for several years to write about Alzheimer's disease, without success. Too painful, I suppose.  A writer is supposed to work his life experience into his work, but I haven't until a few months ago been able to do so.
  Then Zimbell House, a publisher of short story anthologies that's taken several of my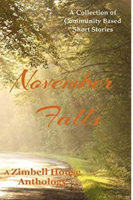 earlier works, invited stories that developed a strong sense of community in a town that should be named November Falls. Place it anywhere, in any time, but make the community one that readers could readily identify and empathize with.
  As I toyed with the idea, I decided my fictional town ought to be upstream from some very real towns on the little rivers that flow out of the Adirondacks and become the Hudson — but a town time had passed by, a frail shadow of its former self. It wasn't then a big step to make the protagonist a man visiting his mother, resident of a cruelly named "memory care unit," whose life story matched the town's.
   It worked; Zimbell editors liked it. It's out now in bookstores and online, a compilation of nine authors' imaginings of a town called — like the book — November Falls. You can read all nine in paperback or as an e-book, or read my version
==>> here