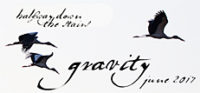 Halfway Down the Stairs, a respected online literary magazine whose editors are  spread across the globe, set "Gravity" as the theme for its June 2017 issue. Such themes are common, and the editors seldom spell out exactly what they're looking for; one suspects they're hoping writers will show them work they hadn't anticipated but will like.
I'd recently finished a story about an adolescent boy, bullied at school, who comes home in a 13-year-old snit and is sent for a walk to cool down. In the nearby forest he discovers a tree-hut high in a sturdy oak — high enough that gravity, if he fell, would do him real damage. He summons up his courage and climbs.
That was apparently an interpretation of the theme close enough to satisfy the editors. You can read it by clicking here.